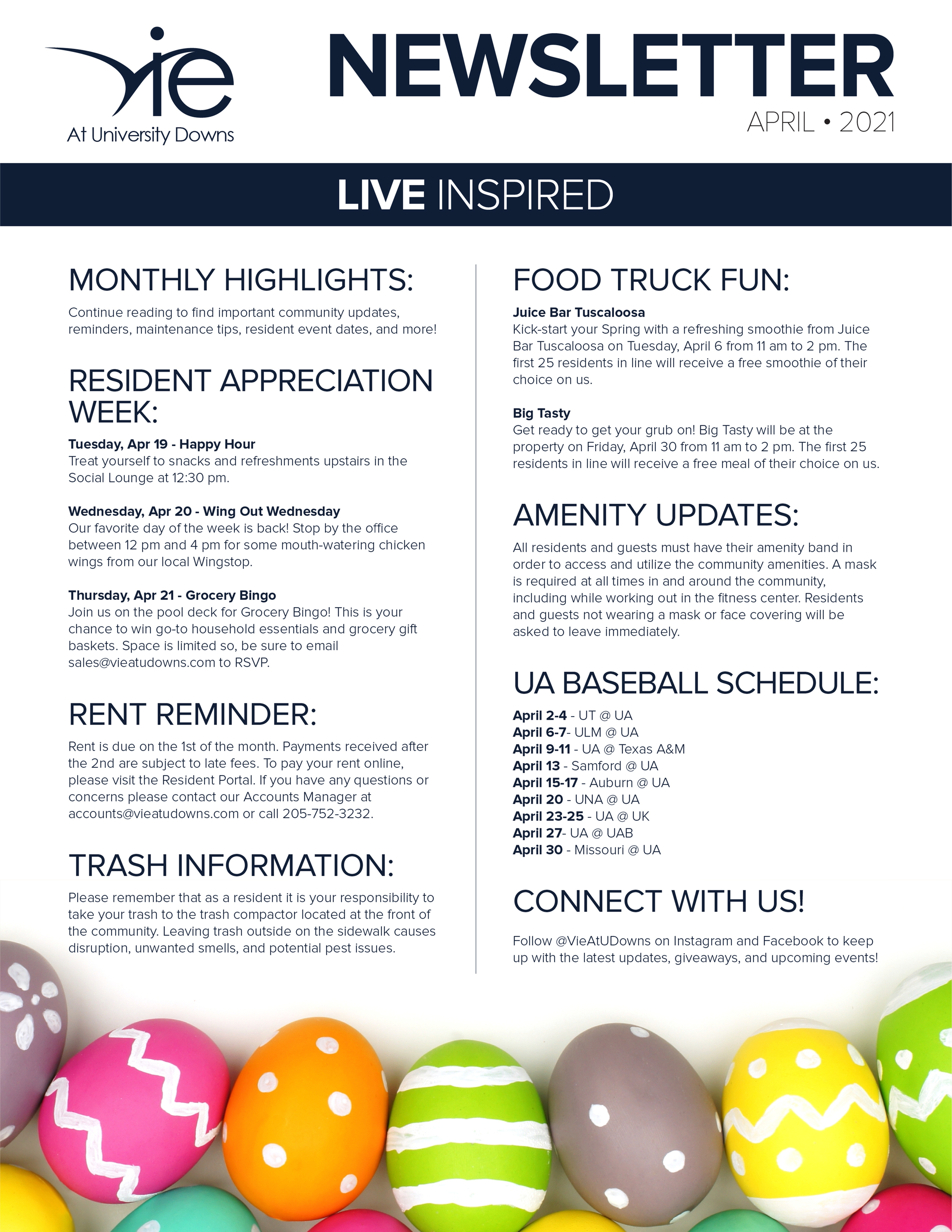 MONTHLY HIGHLIGHTS:
Continue reading to find important community updates, reminders, maintenance tips, resident event dates, and more!
RESIDENT APPRECIATION WEEK:
Tuesday, Apr 19 - Happy Hour
Treat yourself to snacks and refreshments upstairs in the Social Lounge at 12:30 pm.
Wednesday, Apr 20 - Wing Out Wednesday
Our favorite day of the week is back! Stop by the office between 12 pm and 4 pm for some mouth-watering chicken wings from our local Wingstop.
Thursday, Apr 21 - Grocery Bingo
Join us on the pool deck for Grocery Bingo! This is your chance to win go-to household essentials and grocery gift baskets. Space is limited so, be sure to email sales@vieatudowns.com to RSVP.
RENT REMINDER:
Rent is due on the 1st of the month. Payments received after the 2nd are subject to late fees. To pay your rent online, please visit the Resident Portal. If you have any questions or concerns please contact our Accounts Manager at accounts@vieatudowns.com or call 205-752-3232.
FOOD TRUCK FUN:
Juice Bar Tuscaloosa
Kick-start your Spring with a refreshing smoothie from Juice Bar Tuscaloosa on Tuesday, April 6 from 11 am to 2 pm. The first 25 residents in line will receive a free smoothie of their choice on us.
Big Tasty
Get ready to get your grub on! Big Tasty will be at the property on Friday, April 30 from 11 am to 2 pm. The first 25 residents in line will receive a free meal of their choice on us.
TRASH INFORMATION:
Please remember that as a resident it is your responsibility to take your trash to the trash compactor located at the front of the community. Leaving trash outside on the sidewalk causes disruption, unwanted smells, and potential pest issues.
AMENITY UPDATES:
All residents and guests must have their amenity band in order to access and utilize the community amenities. A mask is required at all times in and around the community, including while working out in the fitness center. Residents and guests not wearing a mask or face covering will be asked to leave immediately.

UA BASEBALL SCHEDULE:
April 2-4 - UT @ UA
April 6-7- ULM @ UA
April 9-11 - UA @ Texas A&M
April 13 - Samford @ UA
April 15-17 - Auburn @ UA
April 20 - UNA @ UA
April 23-25- UA @ UK
April 27- UA @ UAB
April 30 - Missouri @ UA
CONNECT WITH US!
Follow @VieAtUDowns on Instagram and Facebook to keep up with the latest updates, giveaways, and upcoming events!