Blog Home
Monthly Updates & Upcoming Events (August)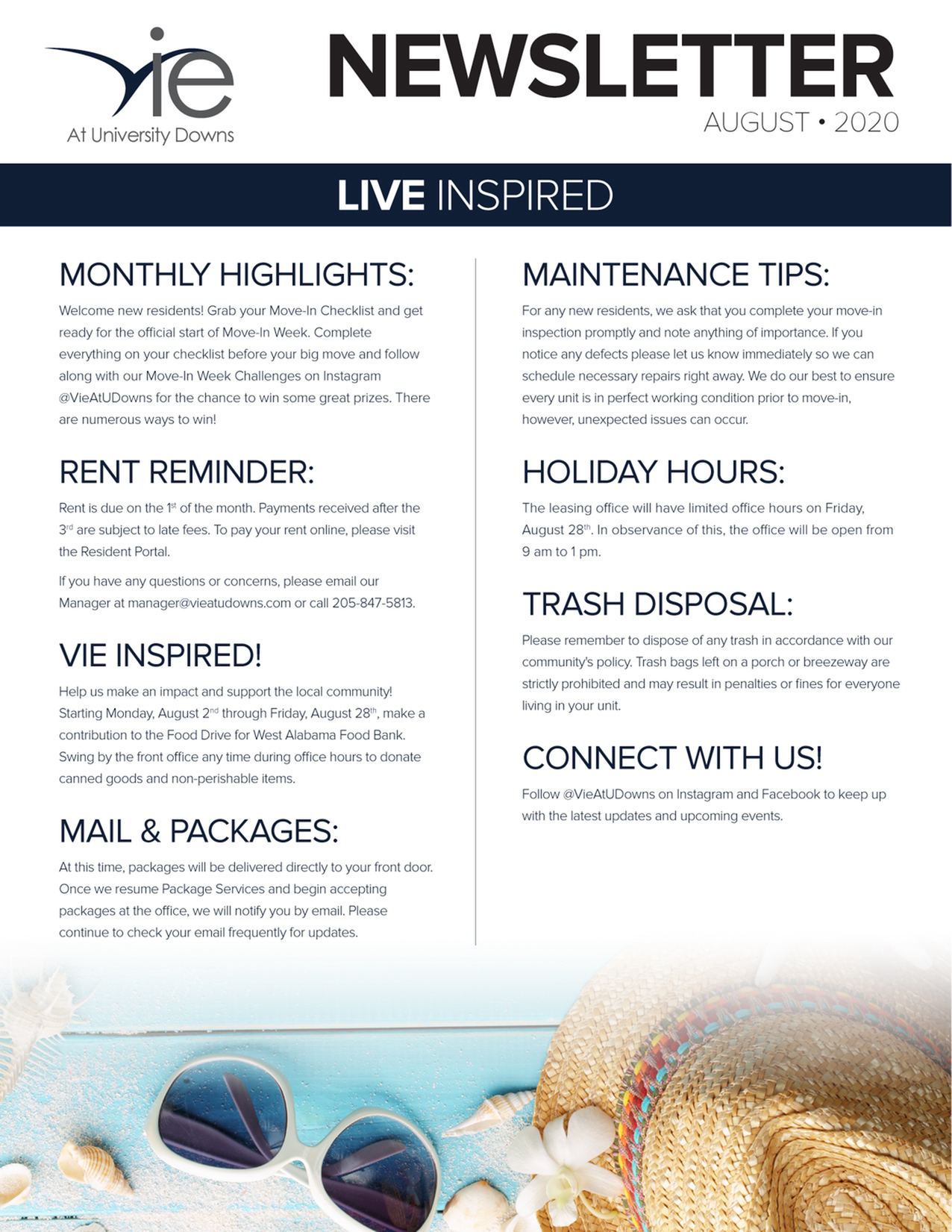 Monthly Highlights:
Welcome new residents! Grab your Move-In Checklist and get ready for the official start of Move-In Week. Complete everything on your checklist before your big move and follow along with our Move-In Week Challenges on Instagram
@VieAtUDowns
for the chance to win some great prizes. There are numerous ways to win!
Rent Reminder:
Rent is due on the 1st of the month. Payments received after the 3rd are subject to late fees. To pay your rent online, please visit the Resident Portal.
If you have any questions or concerns, please email our Manager at manager@vieatudowns.com or call 205-847-5813.
Vie Inspired!
Help us make an impact and support the local community! Starting Monday, August 2nd through Friday, August 28th, make a contribution to the Food Drive for West Alabama Food Bank. Swing by the front office any time during office hours to donate canned goods and non-perishable items.
Maintenance Tips:
For any new residents, we ask that you complete your move-in inspection promptly and note anything of importance. If you notice any defects please let us know immediately so we can schedule necessary repairs right away. We do our best to ensure every unit is in perfect working condition prior to move-in, however, unexpected issues can occur.
Mail & Packages:
At this time, packages will be delivered directly to your front door. Once we resume Package Services and begin accepting packages at the office, we will notify you by email. Please continue to check your email frequently for updates.
Holiday Hours:
The leasing office will have limited office hours on Friday, August 28th. In observance of this, the office will be open from 9 am to 1 pm.
Trash Disposal:
Please remember to dispose of any trash in accordance with our community's policy. Trash bags left on a porch or breezeway are strictly prohibited and may result in penalties or fines for everyone living in your unit.
Connect With Us!
Follow
@VieAtUDowns
on Instagram and Facebook to keep up with the latest updates and upcoming events.