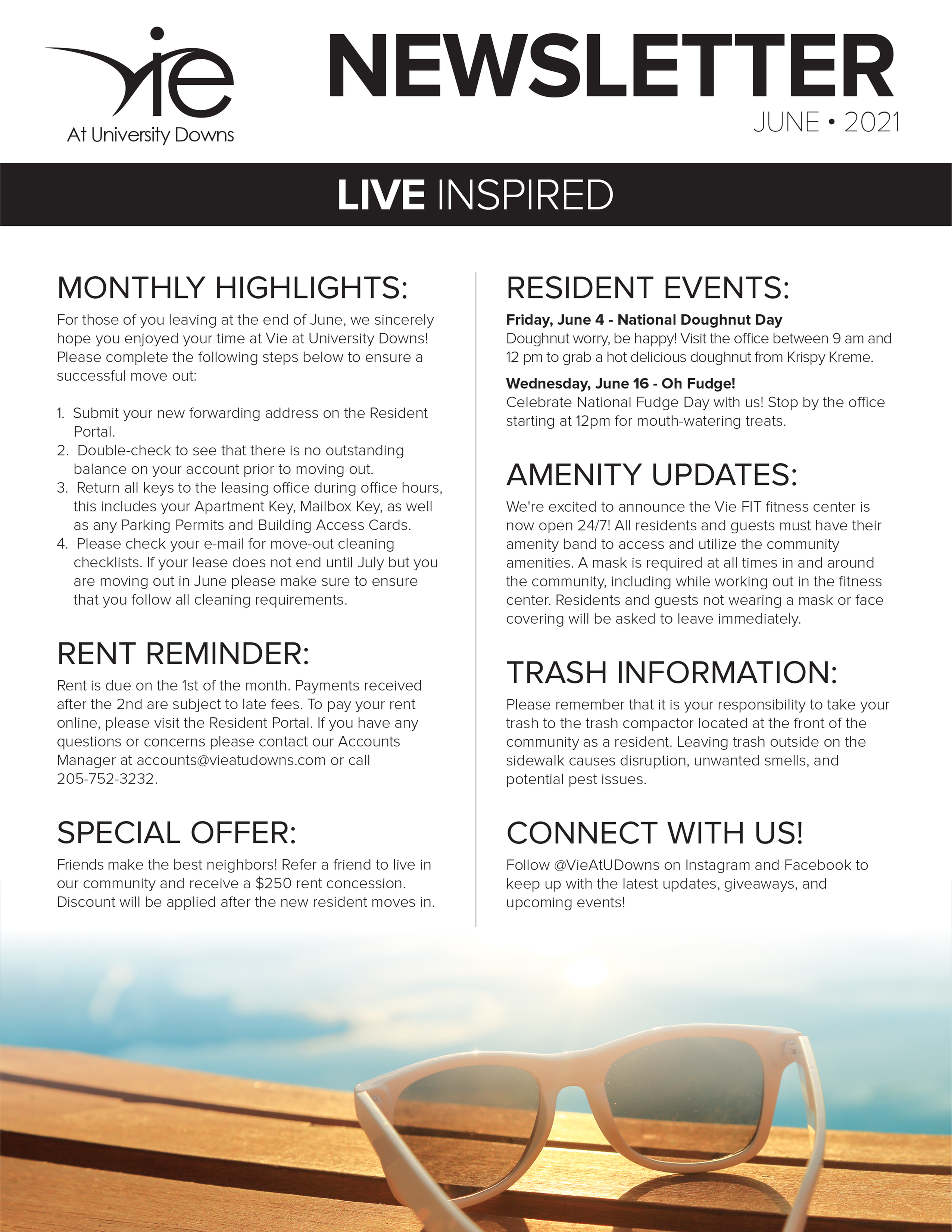 MONTHLY HIGHLIGHTS:
For those of you leaving at the end of June, we sincerely hope you enjoyed your time at Vie at University Downs! Please complete the following steps below to ensure a successful move out:
Submit your new forwarding address on the Resident Portal.

Double-check to see that there is no outstanding balance on your account prior to moving out.

Return all keys to the leasing office during office hours, this includes your Apartment Key, Mailbox Key, as well as any Parking Permits and Building Access Cards.

Please check your e-mail for move-out cleaning checklists. If your lease does not end until July but you are moving out in June please make sure to ensure that you follow all cleaning requirements.
RENT REMINDER:
Rent is due on the 1st of the month. Payments received after the 2nd are subject to late fees. To pay your rent online, please visit the Resident Portal. If you have any questions or concerns please contact our Accounts Manager at accounts@vieatudowns.com or call 205-752-3232.
SPECIAL OFFER:
Friends make the best neighbors! Refer a friend to live in our community and receive a $250 rent concession. Discount will be applied after the new resident moves in.
RESIDENT EVENTS:
Friday, June 4 - National Doughnut Day
Doughnut worry, be happy! Visit the office between 9 am and 12 pm to grab a hot delicious doughnut from Krispy Kreme.
Wednesday, June 16 - Oh Fudge!
Celebrate National Fudge Day with us! Stop by the office starting at 12pm for mouth-watering treats.
AMENITY UPDATES:
We're excited to announce the Vie FIT fitness center is now open 24/7! All residents and guests must have their amenity band to access and utilize the community amenities. A mask is required at all times in and around the community, including while working out in the fitness center. Residents and guests not wearing a mask or face covering will be asked to leave immediately.
TRASH INFORMATION:
Please remember that it is your responsibility to take your trash to the trash compactor located at the front of the community as a resident. Leaving trash outside on the sidewalk causes disruption, unwanted smells, and potential pest issues.
CONNECT WITH US!
Follow @VieAtUDowns on Instagram and Facebook to keep up with the latest updates, giveaways, and upcoming events!