Blog Home
Monthly Updates & Upcoming Events (November)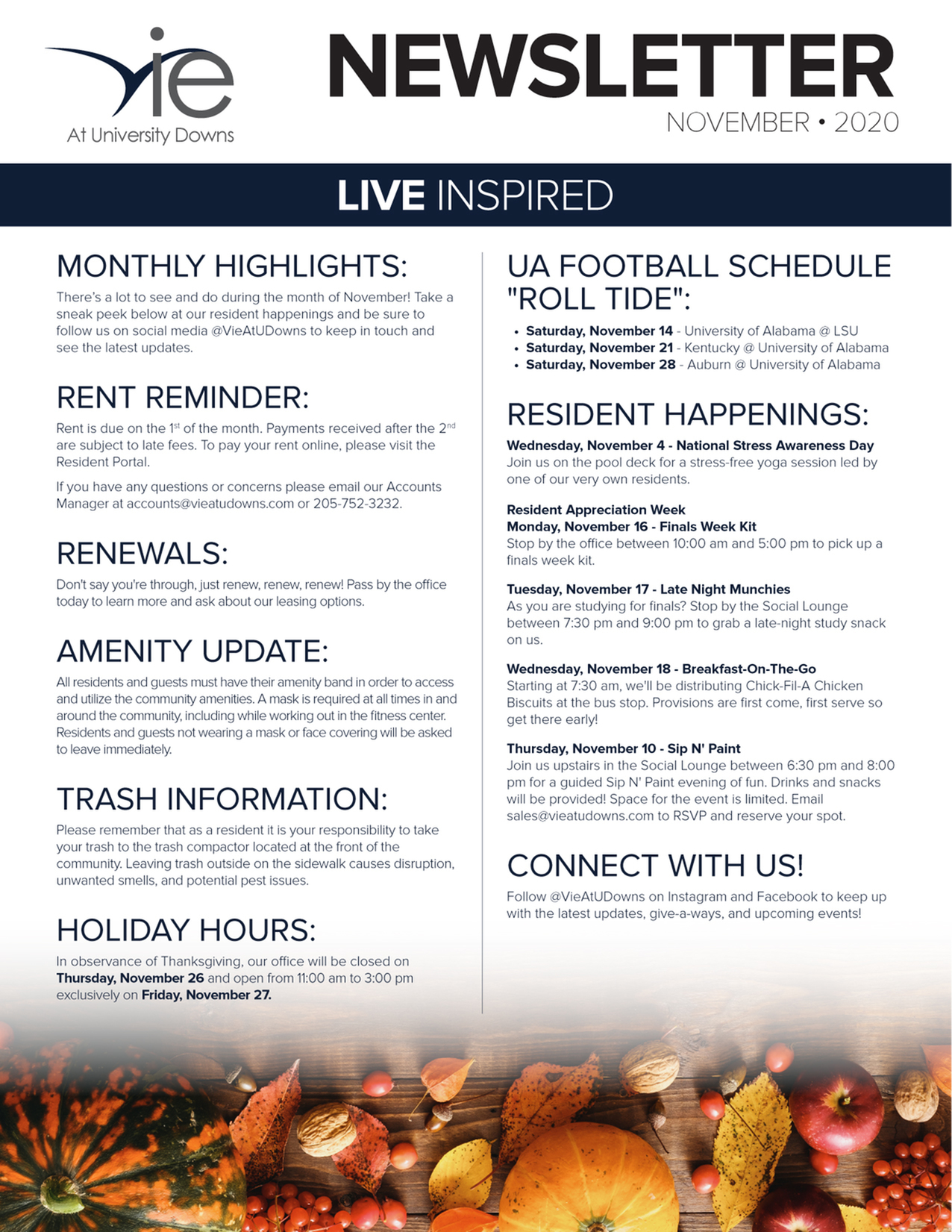 MONTHLY HIGHLIGHTS:
There's a lot to see and do during the month of November! Take a sneak peek below at our resident happenings and be sure to follow us on social media @VieAtUDowns to keep in touch and see the latest updates.

RENT REMINDER:
Rent is due on the 1st of the month. Payments received after the 2nd are subject to late fees. To pay your rent online, please visit the Resident Portal.

If you have any questions or concerns please email our Accounts Manager at accounts@vieatudowns.com or 205-752-3232.

RENEWALS:
Don't say you're through, just renew, renew, renew! Pass by the office today to learn more and ask about our leasing options.

AMENITY UPDATE:
All residents and guests must have their amenity band in order to access and utilize the community amenities. A mask is required at all times in and around the community, including while working out in the fitness center. Residents and guests not wearing a mask or face covering will be asked to leave immediately.

TRASH INFORMATION:
Please remember that as a resident it is your responsibility to take your trash to the trash compactor located at the front of the community. Leaving trash outside on the sidewalk causes disruption, unwanted smells, and potential pest issues.

HOLIDAY HOURS:
In observance of Thanksgiving, our office will be closed on Thursday, November 26 and open from 11:00 am to 3:00 pm exclusively on Friday, November 27.

UA FOOTBALL SCHEDULE "ROLL TIDE":
Saturday, November 14t - University of Alabama @ LSU

Saturday, November 21 - Kentucky @ University of Alabama

Saturday, November 28 - Auburn @ University of Alabama

RESIDENT HAPPENINGS:
Wednesday, November 4 - National Stress Awareness Day
Join us on the pool deck for a stress-free yoga session led by one of our very own residents.

Resident Appreciation Week
Monday, November 16 - Finals Week Kit
Stop by the office between 10:00 am and 5:00 pm to pick up a finals week kit.

Tuesday, November 17 - Late Night Munchies
As you are studying for finals? Stop by the Social Lounge between 7:30 pm and 9:00 pm to grab a late-night study snack on us.

Wednesday, November 18 - Breakfast-On-The-Go
Starting at 7:30 am, we'll be distributing Chick-Fil-A Chicken Biscuits at the bus stop. Provisions are first come, first serve so get there early!

Thursday, November 10 - Sip N' Paint
Join us upstairs in the Social Lounge between 6:30 pm and 8:00 pm for a guided Sip N' Paint evening of fun. Drinks and snacks will be provided! Space for the event is limited. Email sales@vieatudowns.com to RSVP and reserve your spot.